Meet our Jaguar Land Rover Seattle Family – This is Bev
If you have ever walked into the Jaguar Land Rover Seattle showroom, or called in for assistance, chances are high that you've been greeted by the bright smile and temperate voice of Beverly Rodin.
"Bev", the abbreviation of her name which everyone refers to her as, has been the head receptionist at Jaguar Land Rover Seattle for over 3 years – 4 coming up this October. As part of our 'Meet our Family' series, we would like to give you a glimpse into the world of our staff, who you've undoubtedly seen or been helped by around our Lynnwood location. Bev's face is perhaps known to most as she is always there, ready to help or find help for our clients walking through the door. So who is Bev beyond the front desk?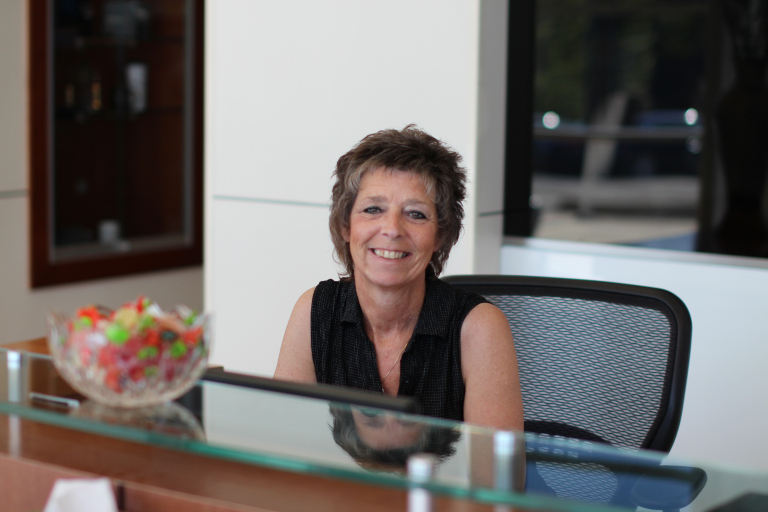 Born in Akron, Ohio – previously known as the "Rubber City of the World", and living in Mill Creek for a good many years, Bev Rodin has always had a passion for automobiles. Outside of work she enjoys attending the classic car shows that frequently come to Arlington, Monroe, Puyallup, etc. – perusing the old vehicles with her husband, as it is both "fun" and "great exercise" spending a day walking around stunning works of design and engineering. Bev also mentioned that these events are great because often there are swap meets, where she can divert away from the cars and on to the beautiful clothing and pretty jewelry, which she calls getting in her "girly stuff".
Aside from shopping and strolling around cars, Bev loves to stroll in Nature. Living in Mill Creek, Bev enjoys hitting the trails of the area – watching and listening to the variety of birds (particularly the Hummingbirds) and taking in the beautiful sights of the Western Washington wilderness. She hopes to spend her free time this summer boating on Lake Washington and taking long scenic drives, her favorite of which being the North Cascade drive.
Of course as a car enthusiast herself, and a receptionist at a Jaguar and Land Rover dealer, the question must be asked – What is your favorite car at the store? Of the Land Rover models Bev enthusiastically said the Range Rover Autobiography, however the Range Rover Sport came in at a close second. In regards to the Jaguar Models, is the limited edition XK on display in our showroom – but the Grey F-TYPE by our entrance doors is "a beautiful and sharp looking car, especially in that color" she commented.
When I asked Bev what her favorite part of her position as receptionist at Jaguar Land Rover Seattle is, her answer is very easy to believe – considering her amiable, keen, relaxed and genuine demeanor. She says it is "helping out our customers… chatting and getting to know our clients… and also our sales staff too". Bev's warm and encouraging presence is indicative of the overall work environment and customer experience ambiance of the store.
Next time you happen to stop by Jaguar Land Rover of Seattle, rest assured Bev is behind the desk and she is endowed with the qualities we all as her co-workers love… the qualities that make her a great person to talk to and also a receptionist who encapsulates one of our brand motto – to go 'Above and Beyond' for our new and recurring guests.